About Solstice Stained Glass
Stained glass windows are designed not only to to keep out the elements but to add beauty to a space. We achieve both of these goals with every panel we create or restore.
In our studio, we use traditional, time-tested, and conservation-minded techniques. We select and cut glass by hand - one piece at a time - then recycle the scrap. Panels are finished only after we seal them with a weatherizing compound and fully clean each one. Our artisans then carefully install the completed windows at the job site.
Throughout the process, we keep in touch with you, working to complete your project on schedule and within your budget. We apply meticulous attention and respect to all projects, large and small, and you can be involved as much or as little as you choose.
Our artisans lay out every step of a project and discuss plans with you. You are welcome to visit our studio during any phase of our work on your windows. If you'd rather just show us job specifications or the space you want filled and then approve the final design, we have the experience to handle that accurately and efficiently. Whatever your level of involvement, the result will be stunning.
You deserve more than just a window. Let us give you a window to enjoy, a window that's art, a window that's all yours - a window that will last decades. We make it easy.
Contact us
for an appointment today.
Artist Bio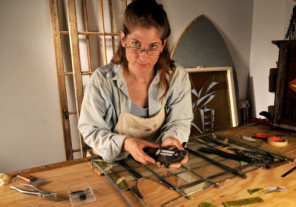 Emily Carlson has been working with restoration, commission and installation of architectural stained glass since 1999. Trained in the traditional methods of the craft, she began her career working as an apprentice for a small studio on Chicago's north side. Sub-contracting under the auspices of her own company, Solstice Art Source, Inc., Emily has worked on hundreds of leaded and stained glass windows, ranging from building simple rectangle and diamond lites, through full re-glazing and restoration of Victorian era windows, and the design, fabrication and installation of original creations. Projects can be seen in private residences as well as commercial and religious buildings throughout Chicago and the North Shore. In September 2007, Emily participated in her first 3-person gallery exhibit, hosted by Marya Veeck at August House Gallery in Roscoe Village. In 2009, her company, Solstice Art Source, moved to its current storefront location in the Kinzie Industrial Corridor. Emily holds a degree in Chinese from the University of Chicago.