For Congregation Members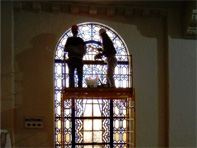 Choosing to restore existing or commission new stained glass windows is an important decision for a congregation.  Solstice Stained Glass understands that these are more than just decoration for your religious institution: it can embody your message, evoke memories and feelings, and profoundly impact the atmosphere of the physical structure.
Before you decide to restore or add stained glass, Solstice will carefully evaluate the current condition and discuss ideas, concerns, and goals with you.  Beginning this conversation is the first step to creating a final product that will satisfy all involved.  The conversation continues throughout the design process as we try to understand not just what you would like the stained glass to look like, but what "feel" it should bring to the space, and what meaning you would like it to convey.
After the design process, we will fabricate the windows in our studio, always keeping in touch and providing updates to you. Committees and congregants are welcome to stop by and see the progress. After completion, the windows will be installed by our skilled artisans using traditional installation techniques for stone or wood settings, or working with techniques that are befitting modern thermal window framing.
Stained glass in religious institutions often presents unique challenges because of the scale involved and often, the fixed ideas of what stained glass should be.  Solstice Stained Glass can design and execute windows to fit your unique congregation, from sweeping and dramatic to warm and familiar, from strikingly modern to comfortingly traditional.
Contact us now to
schedule a consultation
with Solstice Stained Glass.